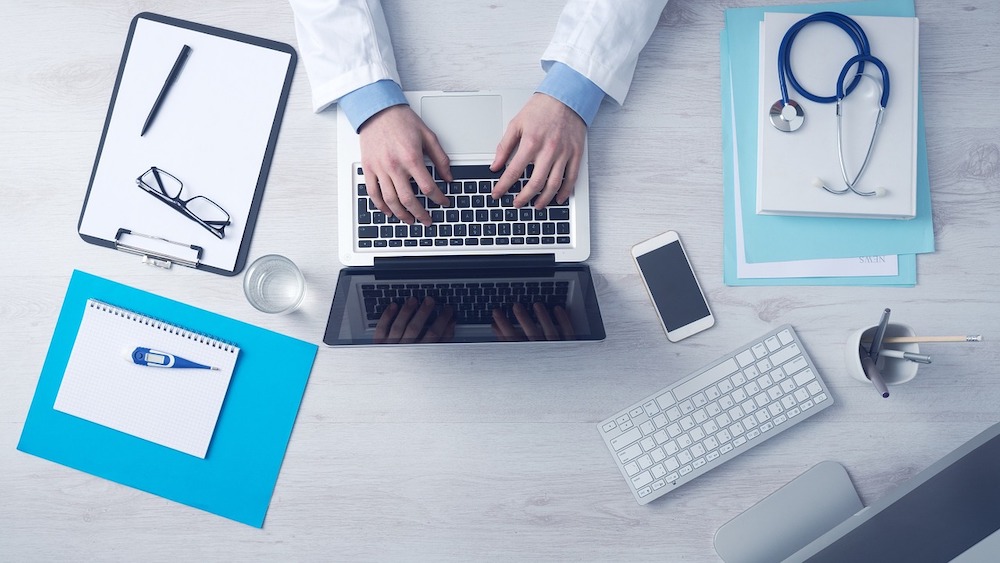 Educational / Industry
---
What do we call it, EMR or EHR? Help us settle this! The terms EMR and EHR are used interchangeably across the healthcare industry, but which is what and what do they mean?
Some say they go together like Forrest Gump and Jenny – "peas and carrots." Actually, they're more like Cheech and Chong: They may go together and have the same goal, but they're really two different, complex characters. Before looking ahead to the future of these sparring terms, and its impact on ASCs, let's go back to the beginning.
Official Definitions
The Centers for Medicare and Medicaid Services doesn't say much about the difference between EMR and EHR. Maybe it's because they started it all. Maybe they're just ornery. But here's what they said earlier about — here we go — EHR incentive programs:
"Sometimes people use the terms 'Electronic Medical Record" or "EMR" when talking about Electronic Health Record (EHR) technology. Very often an Electronic Medical Record or EMR is just another way to describe an Electronic Health Record or EHR, and both providers and vendors sometimes use the terms interchangeably. For the purposes of the Medicare and Medicaid Incentive Programs, eligible professionals, eligible hospitals and critical access hospitals (CAHs) must use certified EHR technology."
Clear as mud.
The Office of the National Coordinator for Health Information Technology (ONC), which is charged with health IT certification, says a little more:
"Electronic medical records (EMRs) are digital versions of the paper charts in clinician offices, clinics, and hospitals. EMRs contain notes and information collected by and for the clinicians in that office, clinic, or hospital and are mostly used by providers for diagnosis and treatment. EMRs are more valuable than paper records because they enable providers to track data over time, identify patients for preventive visits and screenings, monitor patients, and improve health care quality."
"Electronic health records (EHRs) are built to go beyond standard clinical data collected in a provider's office and are inclusive of a broader view of a patient's care. EHRs contain information from all the clinicians involved in a patient's care and all authorized clinicians involved in a patient's care can access the information to provide care to that patient. EHRs also share information with other health care providers, such as laboratories and specialists. EHRs follow patients — to the specialist, the hospital, the nursing home, or even across the country."
How it All Started
Ok, so how did we get here, and who likes peas anyway?
Prior to the 2009 Health Information Technology for Economic and Clinical Health Act (HITECH) incentivizing hospitals and health systems to migrate paper-based systems to electronic, or digital formats, and its corresponding introduction of Meaningful Use incentives, there was one acronym: Electronic Health Record. It was a term that described a patient's medical history and care.
By the time the American Health Information Management Association weighed in, the distinction between the two terms centered on the EMR charting system acting as the legal health record of an individual that might exist in electronic and paper-based systems, and the EHR as the health-related information of an individual that meets interoperability standards and can be shared across more than one healthcare setting. It somewhat contradicts the ONC definitions, which maintain EHR as the broader term and make no mention of any paper-based records involved in a patients' care. (They don't seem to know our space well, do they?)
What Does this Mean for ASCs?
For ASCs, by these definitions my mind first goes to EMR. Surgery is a clinical event that needs recording. There's a lot of data to track in an ASC case, but it's not a giant file of the patient's health history —it's your chart. It's nowhere close to what Epic's CEO Judith Faulkner calls a "comprehensive health record." Our system can hold all that data, and it is plenty interoperable, but as one orthopedic surgeon once told me, "It's simply a legal record of what we did in the case." EMR is a good start, but it's not that simple.
Half of the ASCs in the US are still paper charting. It's no wonder — technology created the problem for itself. Most medical charting software was built for hospitals and practices. Then they got tweaked to "fit" in the ASC. In their eagerness to sell systems, EMR companies decided an Operating Room is an OR; no matter where it's based. But the workflow in the ASC is markedly different. Center staff doesn't have time to learn new, templated charting workflows with loads of data and required fields. That was a big miss, and the software world is still paying the price for forcing down too much change and complexity. The damage is done. Some ASCs still won't even talk to an EMR vendor. We're kind of a bad word. But that doesn't mean the center is performing at its best on paper.
The perception is that paper is simpler, faster, and cheaper. But the risk of staying on paper is enormous: lost or hidden data, lack of data security, growing cost of manual labor, waiting for one user at a time on a chart, etc. A tough choice needs to be made. The center wants to improve flow and use its clinical data for reporting and quality management, but medical charting software can be costly and disruptive. We want the future, but we don't want to change. There are good arguments on both sides. Which risk is greater?
To negotiate the dilemma, here are the key rules of engagement that the right EMR solution must meet for an ASC:
Must bring needed improvements as defined by the center
Must be fast and easy like paper, preferred by staff.
Must cost less than paper (all in).
Must be supported properly.
Find this solution and we've resolved the dilemma. There's no logical argument left for staying on paper. The risk of not improving is much greater. So it's simple, right? Just get the EMR that meets all the rules?
Not so fast. Some believe it doesn't exist. It's a myth, like the Holy Grail, Big Foot or Nessie. "Good ones are too expensive, don't meet the rules. Cheap ones aren't supported well, don't meet the rules. Haven't seen one yet that's fast and easy, don't meet the rules." These are common misperceptions.
What is most interesting about our loveable ASC world is that most centers already use business software alongside their paper charts. Practice management — scheduling, inventory, and billing with retrievable financial data and business reports at their fingertips, is automated, while clinical data is tracked by hand. Business office staff wouldn't stand a chance without their technology. They are used to finding data in an instant. So why do we ask nurses to use pen and paper and spend hours flipping through charts to find simple data? Is it really easier, or fair? Again, tech companies force fed bad EMRs on the ASC for years. They tried to say the ASC workflow was wrong, that it needed to adapt. Status quo looked like the only way, and nobody likes change anyway.
Yet the hybrid approach of business on digital and clinical on paper cannot last, especially when both data sets need to be fully integrated and reportable together in order to improve. As provider competition heats up, and more procedures are cleared for the ASC, many centers find the paper-based status quo to be unsustainable, even without a push from CMS today. We all know the day is coming when ASCs will be required to use an EMR like everybody else. But why wait? Here are some harsh realities eating away at the competitive advantages ASCs have worked so hard to prove:
The true cost of paper and manual workflows for clinical charting are measurable and, when made visible, they are consistently exposed to be much higher than expected — think hundreds of thousands of dollars each year for a large ASC. It is not accurate to say that's the best we can do.
All that important clinical data buried on paper is hidden in storage boxes, on shelves, and in surgeons' lockers. ASCs could dramatically improve quality and profitability if even a small amount of it were retrievable for analysis, or just for required reports. Quality improvement increases flow, and as business management icon Eliyahu Goldratt says, "A small increase in flow can make makes an enormous impact on

profitability

."
In this view, we have no choice but to find the Grail. Yes, it's got to meet the rules, but we must find it to thrive. And it does exist. (Bet you knew I would say that.)
ASCs who switched off paper onto the right system would say the improvement is well worth it. Sure, there are horror stories about drama with the surgeons and change and surprise costs, but the right systems that meet the rules solve many more problems than they cause. Be picky and discerning. Test them all for how well they meet your rules, and you will find the right system to help you improve.
What if We Changed the Name Altogether?
What do you think? I'd like to change the term. Our system fits both definitions, EMR and EHR. How about changing it to Comprehensive Surgical Record, or CSR? It's a term that helps define the ASC space in its importance and uniqueness along the healthcare continuum. A CSR records the clinical procedure like a simple paper chart (EMR). But it's also interoperable, includes patient health history, and is used by multiple providers (EHR). Of course we are talking about a CSR being something that performs at a new standard to keep the ASC thriving: something that is simple like paper, that the clinicians enjoy using every day, that is modern and powerful for management, and that fits the ASC budget. A CSR is a truly tailored ASC system.
Let me know what you think. Together we'll write a new definition for the ASC. Write me at wcampbell@simplifyasc.com.
Speaking of Modern Systems...
Whatever we decide to call it, it's past time for the ASC to find its ideal. Our company has gone beyond the ASC chart many of you already know and love. We created a modern, simple platform for ASC management that brings your clinical and business operations together while fitting your workflow. No more paper, and no more separation of clinical and business. You've lived with old separate systems and processes for way too long.
It's time to see the Grail with eyes wide open, become the ASC of the future, and love the way you work. Start your journey to improvement today.