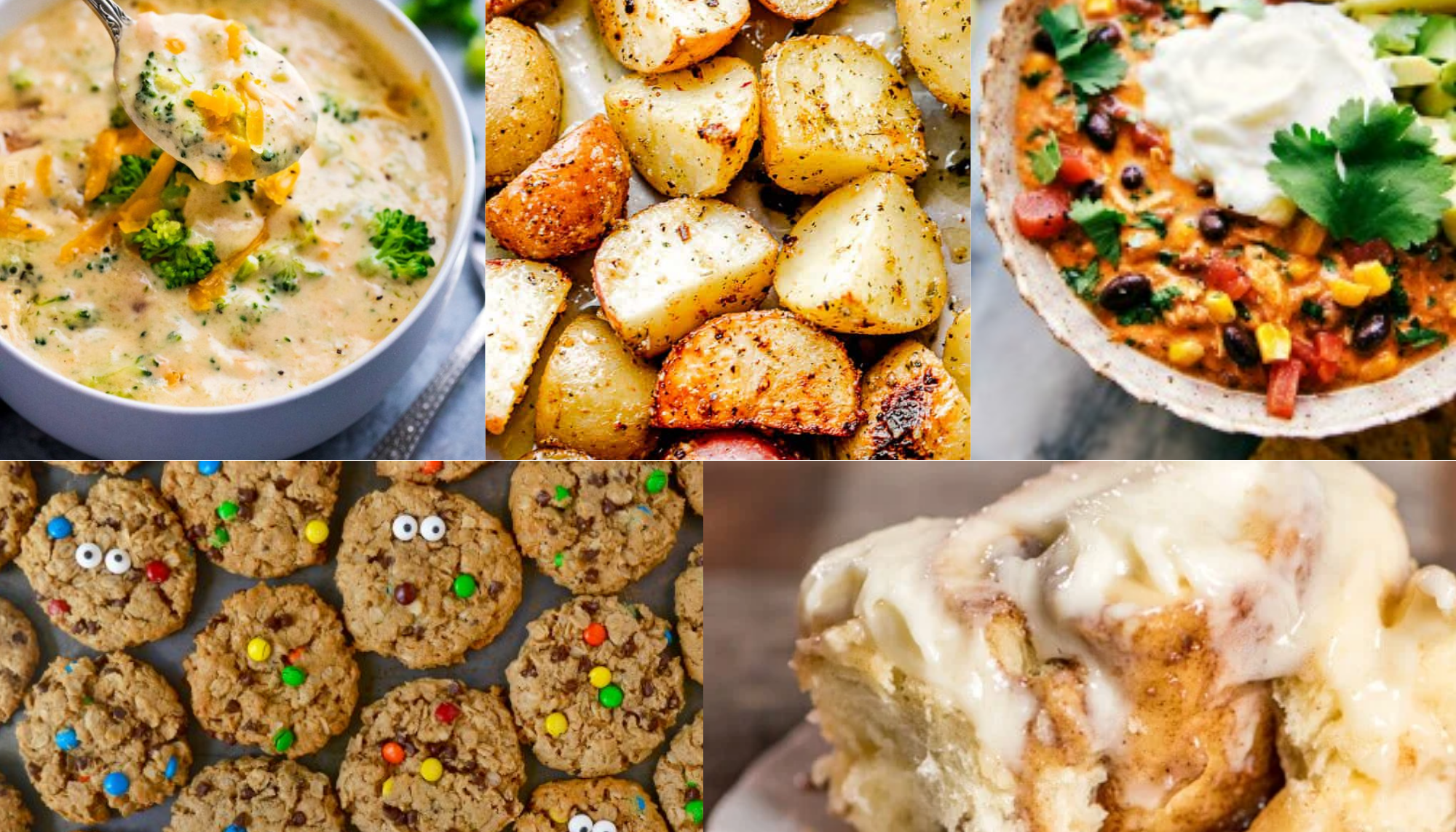 Lifestyle Content
---
Happy fall y'all! Who isn't ready for cooler weather and pumpkin spice? Welcome this season to your doors with delicious, tried-and-tested autumn recipes from our very own Simplify crew. You will have everything you need for any occasion, from comfort foods to made-from-scratch sweets.
Now let's get to the kitchen!

Airfryer (or Oven) Potatoes:
These seasoned and tasty golden-brown baby potatoes are to die for!
Ingredients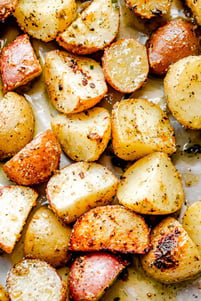 1 lb mini potatoes (or any type)
6 teaspoons olive oil
5 teaspoons dry Italian style salad dressing mix
Salt and red pepper to taste
Instructions
Preheat air fryer to 400 degrees.
Wash and dry potatoes.
Trim edges to make a flat surface on both ends.
Place oil, salt, red pepper and dry Italian dressing in a gallon baggie and mix well.
Add potatoes and coat well.
Air fry in a single layer. Cook in batches if necessary.
Or cook at 400 in oven until tender
Broccoli Cheddar Soup
This hearty broccoli cheddar soup is bursting with flavor while using simple ingredients.
Ingredients
A little more than ¼ C melted butter
¼ C flour
2 C Milk
2 C Chicken stock
5 C chopped broccoli florets
5 C chopped cauliflower
½ C chopped celery
¼ C matchstick carrots
5 C shredded Monterrey jack cheese
1/8 C chopped Gouda
Salt and red pepper to taste
Instructions
Whisk melted butter and flour together in a large saucepan over medium-low heat.
Continue to whisk and cook, adding 1 to 2 tablespoons of milk if necessary to keep the flour from burning, 3 to 4 minutes.
Gradually pour milk into flour mixture while whisking constantly. Stir chicken stock into milk mixture. Bring to a simmer; cook until mixture is thickened, about 20 minutes. During these 20 minutes cook all veggies until tender.
Stir cheeses into mixture until cheese melts. Add veggies. Season with salt and red pepper to taste.

Contest Winning Chicken Enchilada Chili
This easy Chicken Chili is assembled in minutes and slow cooked to perfection! Throw all the ingredients in the slow cooker and forget about it until dinner time. This chili is loaded with tender shredded chicken, a seasoned broth base, sweet corn and tender beans.
Ingredients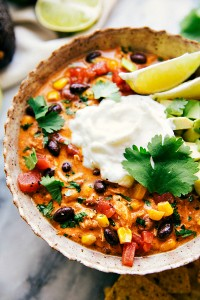 1 can (10 oz. 283g) red enchilada sauce
1 can (14.5 oz.; 411g) fire-roasted diced tomatoes (or diced tomatoes with green chiles)
1 can (16 oz.; 454g) chili beans (pinto) in mild chili sauce
1 can (15 oz.; 432g) black beans drained and rinsed
1 and 1/2 cups (208g) frozen corn (or 1 can (15 oz; 432g) corn, drained)
1 and 1/2 pounds (750g) boneless skinless chicken breasts or boneless skinless chicken thighs
1 cup (224g) chicken stock or chicken broth (for a thinner chili, use 2 cups)
1 package (8 oz.; 226g) cream cheese very soft
Seasonings
1/2 teaspoon ground cumin
3/4 teaspoon paprika
1 teaspoon seasoned salt
1/4 teaspoon pepper
1 and 1/2 tablespoons chili powder
Toppings: sour cream (lite or fat-free), freshly grated sharp Cheddar cheese, diced ripe avocado, fresh lime, and fresh cilantro
Instructions:
CROCKPOT: In a large slow cooker (I use a 6-quart Crockpot), add in the enchilada sauce, undrained, undrained chili beans, drained and rinsed black beans, corn, and uncooked chicken breasts or thighs. (If using chicken breasts, cut each breast into 2-3 large pieces after removing the fat).
CROCKPOT CONT.: Pour in the chicken stock and all of the seasonings (cumin, paprika, salt, pepper, and chili powder). Stir well.
COOK: Cover and cook on high for 3-5 hours (or until chicken shreds easily) or low for 5-8 hours (again, until chicken will shred easily)
SHRED CHICKEN: Remove the chicken from the slow cooker and shred in another bowl, using two forks. Set aside.
CREAM CHEESE: Meanwhile, soften the cream cheese (by microwaving for 30-45 seconds) and add to the crockpot. Stir well and cover. Change temperature to high. Let it sit until the chicken is shredded and then using a large whisk, briskly whisk the cream cheese to melt it into the soup.
ADD CHICKEN: Add the shredded chicken back into the slow cooker. Stir and then taste for any additional salt/pepper needed. I like to add the juice of a lime here, too!
SERVE: Ladle chili into bowls. Serve bowls topped with your favorite toppings. Our favorites are sour cream, freshly grated Cheddar cheese, diced avocado, a few lime wedges, and fresh cilantro as desired. I do think at the least, the cheese is a must-have topping
Homemade Cinnamon Rolls
The best homemade cinnamon rolls ever! If you love gooey cinnamon buns, here's the secret ingredient. Everyone raves about these homemade yeast rolls.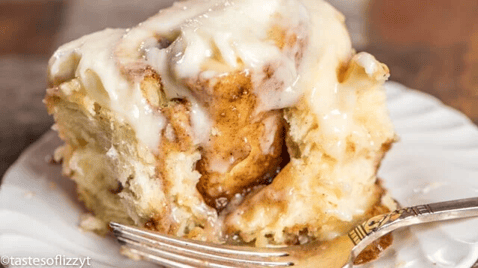 Ingredients
1 cup warm milk (about 115 degrees F)

2 1/2 teaspoons instant dry yeast* (I like Red Star Platinum Baking Yeast)

2 large eggs at room temperature

1/3 cup salted butter** (Melted, but make sure it isn't super hot. Just barely melted, or even

softened, is fine.)

1 teaspoon salt

1/2 cup granulated sugar

4 1/2 cups all-purpose flour (divided)

1/2 cup salted butter (almost melted)

1 cup packed brown sugar

2 tablespoons cinnamon

1/2 cup heavy cream***(for pouring over the risen rolls)

6 ounces cream cheese (softened)

1/3 cup salted butter (softened)

2 cups powdered sugar

1/2 tablespoon maple extract (or vanilla)
Instructions
Pour the warm milk in the bowl of a stand mixer and sprinkle the yeast overtop.
Add the eggs, butter, salt and sugar.
Add in 4 cups (save the other 1/2 cup and add only if you need it) of flour and mix using the beater blade just until the ingredients are barely combined. Allow the mixture to rest for 5 minutes so the flour has time to soak up the liquids.
Scrape the dough off the beater blade and remove it. Attach the dough hook.
Beat the dough on medium speed, adding in up to 1/2 cup more flour if needed to form a dough. Knead for 5-7 minutes or until the dough is elastic and smooth. **The dough should be tacky and will still be sticking to the sides of the bowl. That's ok! Don't be tempted to add more flour at this point. We generally add about 4 1/2 cups, but start with 4 cups.
Spray a large bowl with cooking spray.
Use a rubber spatula to remove the dough from the mixer bowl and place it in the greased large bowl.
Cover the bowl with a towel or wax paper.
Set the bowl in a warm place and allow the dough to rise until double. I like to turn on the oven to the lowest setting for 1-2 minutes. Then turn off the oven and place the dough to rise in there. It normally takes about 30 minutes for the dough to rise. Do not allow the dough to rise too much or your cinnamon rolls will be airy.
While the dough is rising, prepare the cinnamon filling. In a medium bowl, combine the soft butter, brown sugar and cinnamon, mixing until well combined. Set aside.
Sprinkle a pastry mat generously with flour. Turn out the dough onto the pastry mat and sprinkle the top of the dough with additional flour.
Flour a rolling pin and roll the dough to about a 24x15" rectangle. (the size of the rectangle can vary...it does not have to be exact!)
Use a rubber spatula to smooth the cinnamon filling over the whole dough rectangle.
Starting on the long end, roll the dough up tightly jelly roll style.
Cut into 12 slices and place in a greased 9x13 baking pan.****
Cover the pan and allow the rolls to rise for 20 minutes or until nearly double.
Preheat the oven to 375 degrees.
Warm the heavy cream until the chill is off. Don't make it hot...you just don't want it cold. It should be warm to the touch.
Once the rolls have risen, pour the heavy cream over the top of the rolls, allowing it to soak down in and around the rolls. Bake at 375 degrees for 20-22 minutes, until the rolls are lightly golden brown and the center rolls are cooked through. Note...the time will vary based on how big the rolls are, what type of pan, how close the rolls are packed, etc. They could take up to 25-27 minutes. Check the rolls at 20 minutes. If they are getting too browned, cover loosely with foil for the remaining baking time.
While the rolls are cooling, prepare the cream cheese frosting.
In a large bowl, combine the softened cream cheese and butter using a hand mixer. Blend well.
Add in your favorite extract and the powdered sugar. Beat until combined.
Spread the frosting over the cooled rolls.
Store in an airtight container.
Notes:
*Different yeast calls for slightly different proofing methods. We follow Red Star Platinum's temperature guidelines. Please check your yeast packet to see what temperature the milk should be at.
**A note about the butter, we have used 1/2 cup of butter instead of 1/3 cup many times. We feel it keeps the rolls softer. Give it a try!
***If you don't have cream, use half and half, coffee creamer, evaporated milk, whole milk or coconut cream. Any of these will work. Even 2% milk will work, but we prefer a higher fat milk.
****For smaller rolls, cut the dough into 15 slices and use a 10x15" baking pan. The larger pan will also allow the rolls to rise more evenly.
Overnight Instructions
We often make the cinnamon rolls and get them to the point of the second rise (when they are rolled out, cut up and put in the pan). Cover and refrigerate until morning.
The morning you want to bake them, pull them out of the refrigerator. They may have doubled in size in the fridge overnight. If they have, let them sit for 30 minutes to get the chill off, then bake.
If they did not rise in the fridge overnight, allow them to rise at room temperature. Plan about at least an hour for this. Then pour on the cream and let them bake.
*The Calorie count shows the amount with ALL of the frosting used. There will be less calories in the rolls if you don't use all of the frosting at once. Calories are per roll with the recipe making 12 frosted rolls.
Cinnamon Roll Icing
This creamy Cinnamon Roll Icing is made with 4 staple ingredients in 3 minutes and turns homemade or store bought cinnamon rolls into the ultimate breakfast treat! This Cinnamon Roll Glaze seeps into the rolls making each bite absolutely amazing!
Ingredients
2 c powdered sugar aka confectioner's sugar
2 Tbsp butter melted
2 Tsp vanilla
4 Tbsp milk can substitute with heavy cream or half and half
Instructions
Combine powdered sugar, melted butter, vanilla and milk in a large mixing bowl until smooth.
Por over warm rolls and spread.
Monster Cookies
Chocolatey, chewy, peanut buttery goodness. There's no better way to describe this tried and tested family recipe for Monster Cookies.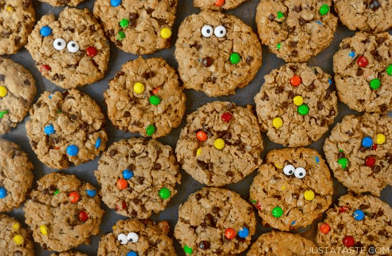 Ingredients
3 eggs
1 cup Granulated Sugar
1 Cup Light Brown Sugar
1 Tsp Vanilla Extract
1 Tsp Corn Syrup
2 Tsp Baking Soda
1 Tsp Salt
1 Stick Unsalted Butter (Melted)
1 ½ Cups Chunky Peanut Butter
4 ½ Cups Rolled Oats
½ Cup All Purpose Flour or Whole Wheat Flour
¾ Cup Chocolate Chips
¾ Cup Reese's Pieces
¾ Cup M&Ms or Peanut Butter M&Ms
Instructions:
Preheat oven to 350 Degrees.

Line cookie sheets with parchment paper or silicone baking mats. Always cool cookie sheets before putting batch of cookies on to cook.

In a large mixing bowl, beat eggs, both sugars, vanilla, corn syrup, baking soda, and salt.

Beat in melted butter and peanut butter.

Beat in oats and flour.

Stir in candy.

Let dough sit for at 30 minutes.

Drop on cookie sheet in ¼ cupfuls

Flatten dough slightly and bake for 10-12 minutes until golden brown.

Cool on rack.

Pumpkin Chocolate Chip Cookies
These EASY Pumpkin Chocolate Chip Cookies have only 3 ingredients. You will love these soft and fluffy pumpkin cookies!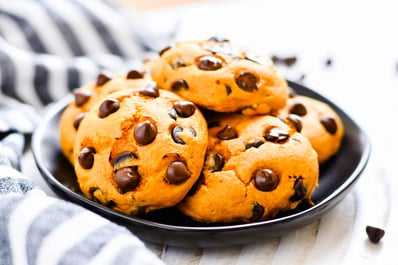 Ingredients
1 box yellow or spice cake mix
15 ounces pumpkin purée
1 cup chocolate chips
1 tsp pumpkin pie spice (definitely omit if you're using a spice cake mix)
Instruction
Preheat oven to 350ºF.

Mix together the cake mix, pumpkin purée, and if desired: pumpkin pie spice and chocolate chips.

Scoop the dough onto an ungreased cookie sheet. Flatten slightly with your palm (wet your fingers to keep the dough from sticking to your hands). Repeat with the remaining dough, placing the dough 2 inches apart on the cookie sheet.

Press a few chocolate chips onto the top of each cookie.

Bake for 15 minutes. Transfer to a wire rack for cooling.
What do you think? Send a note to marketing@simplifyasc.com if you enjoyed this post or if there is a recipe recommendation you think we should add to the list.